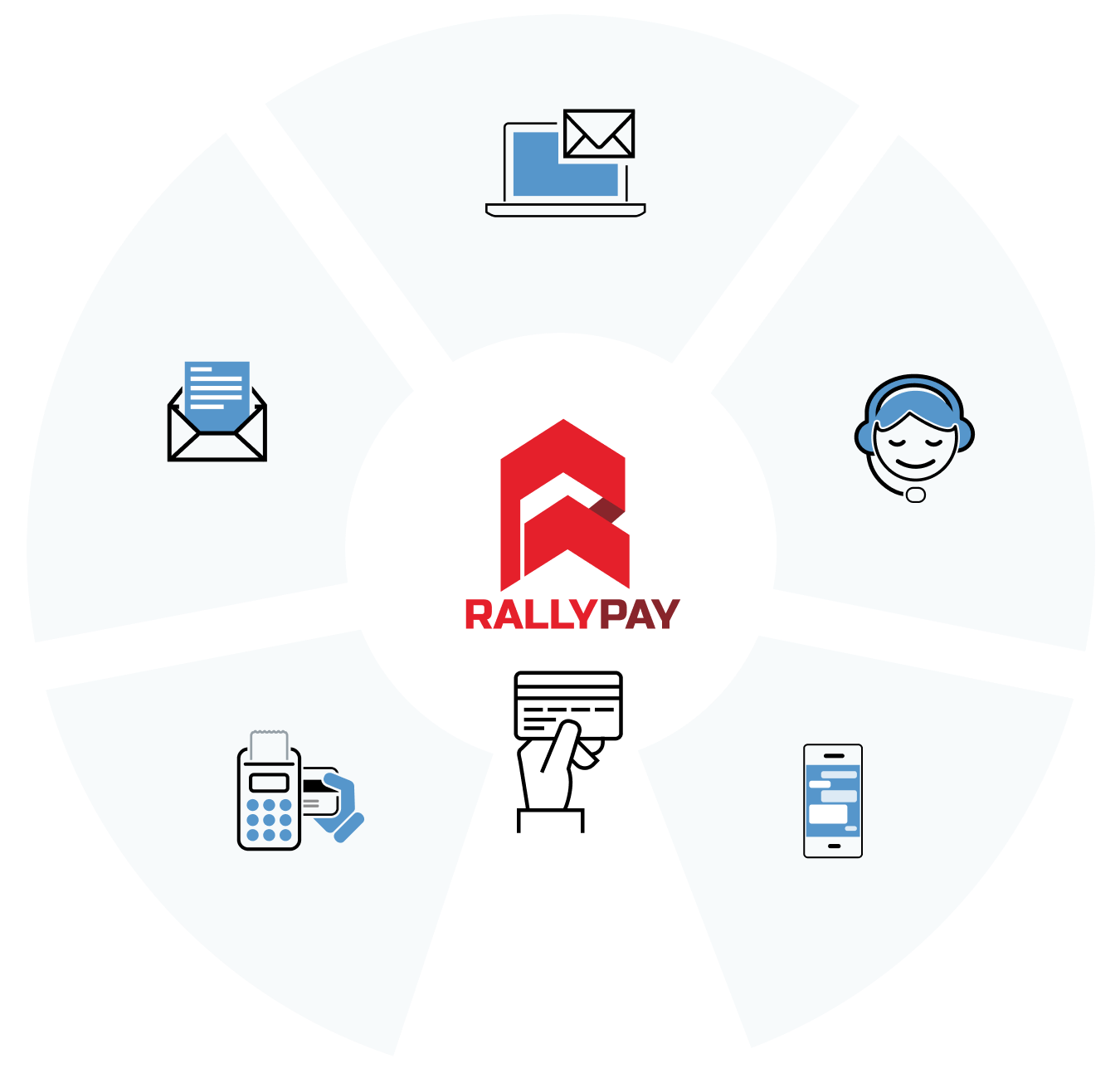 What does Omni-Channel Mean for me?

Most organizations need a payment infrastructure that allows them to do business with anyone, anywhere, at anytime. 
One organization could receive payment for the same service from e-commerce, telephone, in person, or mail – directly or through third parties.
Traditionally, organizations needed to use a variety of payment solutions to serve all these verticals – resulting in lost data and opportunity.
RallyPay's omni-channel infrastructure allows you or your preferred partner control your data and increase profitability and sales conversion.
RallyPay processes payments from any channel and works with the credit card companies to encrypt and secure that sensitive credit card data. 
Then, RallyPay marries that encrypted data to customer information such as phone number, address, e-mail address producing a RallyPay Easy Verification record.
RallyPay Easy Verification enables your organization to use one-click, one-word, or checkbox authorization to verify payments across channels – regardless of where the original payment came from.
RallyPay Easy Verification enables companies to see up to 300% higher conversion across all channels. Easy Verification also has shown to increase fulfilled pledges, recurring sales, and upsell acceptance rates.
For some examples of how to use RallyPay Easy Verification click here.
Let's see easy verification in action:

Cross-channel sales
Sarah is a Metro University alumnus who buys her football tickets on the Metro U website. This year, Adam, a student volunteer, is calling Metro alumni to to donate to the new library. With RallyPay, Adam can increase his success rate by three times by simply asking Sarah if he can charge her card on file - whether she's at work, in the yard, or simply does not want to search for her credit card.
High response sales
Hurricanes have destroyed homes across Carribea Island, leaving families homeless and business in desperate need of funds. Volunteer Support International's recieves millions each year online, by mail, and by phone. With RallyPay, Voluteer's international can organize an SMS and call center campaign to raise three times the amount they normally would have by using RallyPay's Easy Verification and omni-channel network
Delinquent Payments
Globo Gym's members usually pay on time, but every month there are a few stragglers. With RallyPay, Globo Gym can send a text message to it's members and allow them to pay their bill by simply typing the word 'Yes.
Upsells
Betsy purchased television service from MediaCorp yesterday. With RallyPay's easy verification, MediaCorp can contact Betsy the following day by e-mail, text, or phone to offer her favorite premium movie channels by simply saying 'Yes.'
Fundraising
Every year, the Save the Butterflies does a massive direct mail fundraising campaign. This year, 40% of their donors contributed via card. Instead of missing an upsell opportunity, Immediately upon receiving the donation, Save the Butterflies volunteers call the donor and ask if they would like to make their donation recurring simply by saying 'Yes.'
Subscriptions
Jacob forgot to renew his annual subscription to the Timbuktu Times. He receives a phone call from the Times asking if he'd like to renew. A simple yes is all that is needed to charge his credit card.
Soft Sale
Metro City Bicycle checks how every new customer is enjoying their bike one week after purchase. With RallyPay, Metro City Bikes can use this opportunity to sell warranties, helmets, or bike trips with one spoken word, typed word, or click!
RallyPay will work with you to deliver the lowest processing rate.
Questions? Request a demo today!